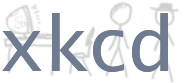 Today's XKCD
comic
hit my brain like a TRUCK. Every once in awhile the creator, Randall Munroe, experiments with different storytelling styles or far-out ideas, but today's "Click and Drag" really surprised me. Reminiscent of the
Infinite Canvas
described by Scott McCloud, today's comic went on... well, nigh-infinitely, it seemed to me. I spent quite a long time exploring and letting my mind wander as I marveled at the sheer scale of what he'd done. I thought to myself:
How long did this take? He must've been working on this (in addition to the regular strips) for MONTHS
Does it end? Does it loop? How many directions does it travel off into?
Is there a perfect way to "read" this, to see everything in one sweep?
Is this a commentary on life, and how there is no single, ideal linear progression? Just opportunities to explore and discover?
Are those Warp Pipes?
If that all sounds ridiculous and heavy, well... XKCD frequently is. Today's was extra special, though (as even
Comics Alliance
noted) so I had to share. Be sure you click and drag it.