Man, I have been having WAY too much fun today.
I don't know what the deal is; normally this holiday bums me out. I've been WAITING for it to bum me out. Somehow, I've ended up in this crazy state of euphoria. Most of which I'm currently attributing to Whitesnake. This is seriously the funniest Valentine's Day I've ever had. I'm barely even gonna mention
St. Valentine's Day Massacre
like I normally do every year. This year I have Big Plans.
I created a fully-penciled, -inked, and -colored piece of "art" today. Most of this was done while listening to crazy 80's hair metal bands and so-bad-they're-good "love" songs. After I post this, I'm goin' downstairs... I'm gonna fire up the Guitar Hero III... and I'm gonna blast every cheezy rock ballad that game has. Then I'm gonna go to work (not my favorite part of these Big Plans, but whatever). Then I'm gonna get some Chinese food, come home, and watch a gangster movie. The entire time all of this is happening I will have the biggest grin on my face, mainly because I'm dodgin' this guy (as the J. Giles band once said: Love Stinks):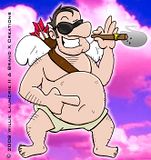 Quoth Cluracan of the Fair Folk: "It's amazing how much one can accomplish in an evening, if one is willing to expend a little effort, and to walk briskly."