The Maiden of Magic herself, Zatanna.
Although she isn't often able to work directly with the Justice League of Earth-38 due to distance (
Nanda Parbat
is considered "too far North" even from a moon base!), not a single member of the team would ever consider her less than a full-fledged member. Her magical and creative talents have served the League well on many occasions; when the threat is mystical in nature, they know who to call.
Starman especially, though, wishes she could spend more time on the moon... looking out at the stars with him...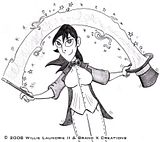 ---
Also, be sure to check out the other heroes of Earth-38: